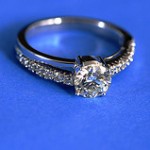 Congratulations you're engaged! An engagement can and should be one of the most exciting times of your life. Many couples opt to send in a formal announcement to their local newspaper. Some of the larger city newspapers may no longer print this information for free like they did in the past, so it's best to call the newspaper first if you're interested in having your announcement appear there. At this time you can also ask about their policies and any special requirements for your upcoming wedding photo. A 3.4 shot will usually suffice.
You should also  inquire about their guidelines and  deadlines for your announcement, in addition to whether you can include a photo. if this is something of interest to you.
General engagement announcements include the following:
 information about the couple
information about both careers
education credentials
both parents names and hometowns
In the event that you may still not have to set the exact wedding date, but would like to give the readers an idea of the general time frame, if you have an idea of the season that you will be married in a simple "a fall wedding will follow" will suffice.