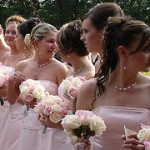 Choosing your maid or matron of honor needs even more thought than your whole list of wedding attendants. Some serious thought. This will be your "go to girl" throughout your wedding festivities and should be someone who is very special to you.
First off, some people may ask what is the difference between a maid of honor and a matron of honor. The answer is quite simple. A maid of honor is a woman in not married and a matron of honor is a woman who is or has previously been married.
This "go to girl" will be the woman who will help you with your pre-wedding plans, any problems that may crop up both before and/or during your wedding and is also the person who usually signs your wedding license. If you choose to use a decorative quaker wedding marriage certificate or calligraphy sign in scroll (samples can be seen here) her name will go on this as well.
Choose someone that you know has always been there for you. The woman who has always been rooting for you, has had your back in times of crisis and shared the fun and crazy times is the person you will most likely want by your side as her role in your wedding is an  important one that you will want to look back on with the best of memories.